Improving air quality in European cities will bring major health benefits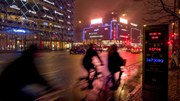 Most people living in European cities are exposed to poor air quality. Latest estimates by the European Environment Agency (EEA), released today, show that fine particulate matter continues to cause the premature death of more than 400 000 Europeans annually. Road transport, agriculture, power plants, industry and households are the biggest emitters of air pollutants in Europe.
Read more
New aeronautic manufacturing plant in Évora financed by the EIB under the Investment Plan for Europe
Mecachrome Aeronáutica has inaugurated today in Évora (Portugal) its new plant for manufacturing titanium parts for aircraft engines. The EIB has financed the investments by the Mecachrome group with a EUR 40 million loan aimed at supporting the modernisation and expansion of its production capacities for advanced aero engine and aerostructure components at its factories in France and Portugal. Part of the project scope is in particular focused on the new factory inaugurated today in Portugal. The operation is guaranteed by the European Fund for Strategic Investments (EFSI), the core of the Investment Plan for Europe, the Juncker Plan.
Read more