Shaping the future of energy in Europe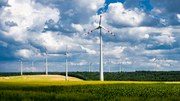 In many ways energy powers our lives and we depend on a reliable supply of energy at an affordable price, but at what cost to our environment? The European Environment Agency's (EEA) Signals 2017 published today looks into Europe's energy system and its transition towards clean, smart and renewable energy.
Read more
EU-Ukraine Association Agreement fully enters into force
European Commission - Press release Brussels, 1 September 2017 Today, the Association Agreement between the European Union and Ukraine enters fully into force. The Association Agreement, including its Deep and Comprehensive Free Trade Area (DCFTA), is the main tool for bringing Ukraine and the EU closer together: it promotes deeper...
Read more